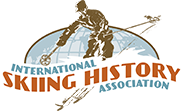 Don't Miss the ISHA Awards!
Please join us at the 24th annual ISHA Awards banquet, to be held at the historic Hotel Jerome in Aspen on April 7. The party offers a can't-miss chance to meet some of the world's leading ski historians, to support ISHA at its premiere annual gathering, and to learn about the year's best ski-history books and films.
This year, we'll honor Greg Lewis and Karin Berg with prestigious Lifetime Achievement Awards. Lewis is an Aspen-based broadcaster who started out calling World Pro Skiing races, and went on to cover international ski racing for NBC, CBS, ESPN, HBO and Turner Broadcasting. In a colorful short video, Lewis will recreate the vibrant world of ski racing in the 1970s and 1980s. Berg, longtime curator of the Holmenkollen Museum in Oslo, will briefly discuss her award-winning book on the evolution of the modern ski pole—it's a surprising tale, and key to the development of modern ski techniques.
Representatives from Whistler/Blackcomb and Winter Park will be on hand to accept awards, with short video retrospectives of these leading North American resorts. You can mingle with ski historians from Europe and North America and purchase copies of their books, which cover topics ranging from Snowshoe Thompson and Mathias Zdarsky to women's ski jumping, U.S. alpine racing and the legendary Hahnenkamm. You can also be among the first to purchase a pre-publication copy of Warren Miller's new autobiography.
The evening kicks off at 5 p.m. with a cocktail reception at the Jerome. It's a cash bar and all Skiing History Week guests are invited. The banquet begins at 7 p.m. and reservations are required. Tickets cost $175 per person (group rate) or $200 per person (individual rate), plus a modest online booking fee, and all but $60 of your ticket price is considered a tax-deductible charitable contribution to ISHA.
To register, go to tinyurl.com/ISHAAwards2016. For a complete list of 2015 ISHA Award winners, go to skiinghistory.org/events. Questions? Call 802.366.1158